Empower the Next Generation with a True Youth Checking Account and Debit Card
Teach your kids how to be mindful of their finances with a True Youth Checking Account and Debit Card. Tailored specifically for the younger generation, this solution provides a secure debit card experience, blending the features of our regular debit cards with enhanced protection and oversight.
The True Youth debit card ensures safe spending by setting daily limits, capping daily transactions, not allowing an overdraft allowance, and declining international purchases. Parents can easily set up account alerts via our Online or Mobile Banking platforms for added peace of mind. This ensures you remain in the loop about your child's spending, guaranteeing their hard-earned money remains protected.
True Youth Debit Card
Spending Limits: $250 Per Day
Number of Allowed Transactions: 10 Per Day
No International Purchases
No Overdraft Allowance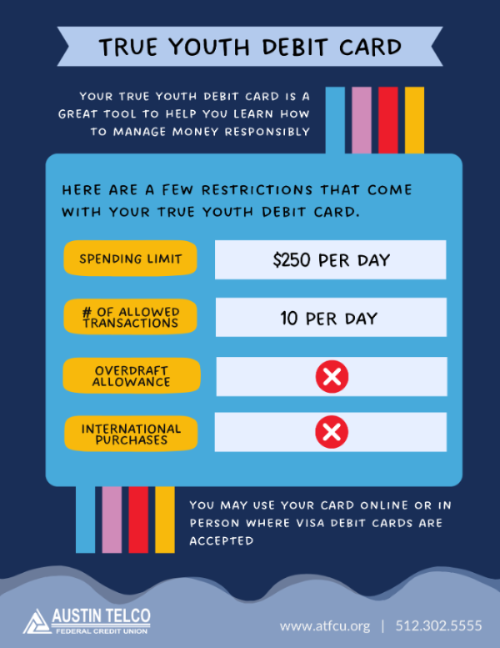 Opening a True Youth Checking Account
Our True Youth Checking account can be opened at any of our lobby locations and will require a True Youth Savings Account.
Don't have a True Youth Savings Account? You'll need the following:
Child's birth certificate or government issued ID
Child's Social Security Number
Adult 18 years old or older as a joint owner, with their government-issued ID and Social Security Number.
$25 deposit required to remain in the True Youth Savings Account as their share of the credit union for as long as the account is open