Your business and its needs are unique.
Austin Telco Federal Credit Union's Free Business Checking Accounts are designed to provide members with the basic financial services that are so important to a successful business. Many of our most popular services are available to businesses, and you will appreciate the personal service you receive from our branches and the convenience of online account access through Online Banking.
ATFCU's Free Business Checking Account offers the conveniences of 24-hour credit union access with a vast array of financial solutions to assure your business success. Open a checking account today and take advantage of our full range of products and services.
Monthly Service Charge - $0
Minimum Daily Balance - $0
Per Check Charge - $0
Customer Service - Local
Online Banking - Free
Mobile Banking - Free
Text Banking - Free
Dividends - 0.05%
Alerts - Free
Visa Debit Card - Free
Mobile Deposit - Free
ATMs in Network - 300+ Free
Online Statements & Tax Forms
eNewsletter
Each member is required to have a savings account, which represents your share in the credit union. There is a $25 minimum balance required as long as the account is open; this is a deposit that belongs to the member.
*You may pay up to 15 bills for free per month, any additional bill will be $0.35.
**An average daily balance of $1500 is required to obtain the Annual Percentage Yield for the monthly dividend period.
---
Business Debit Card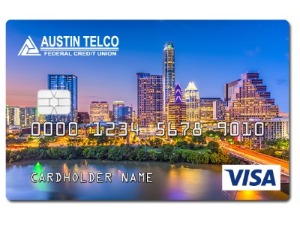 Austin Telco Federal Credit Union's VISA Debit Card is a great way to pay for purchases online or in stores. When you use your VISA Debit Card, purchases are deducted directly from your ATFCU checking account without the hassle of having to write a check. Your monthly statement will also provide you with a record of all your VISA debit card purchases. In addition to saving time, it reduces costly check printing fees. Your ATFCU VISA Debit Card is everywhere you want to be! Accepted at millions of locations worldwide, anywhere the VISA logo is displayed.
---
Ordering Checks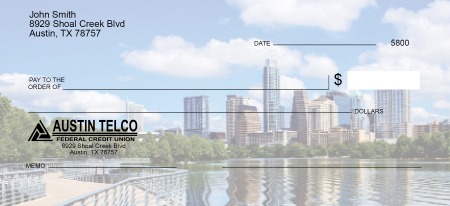 Austin Telco Custom Check - Box of 100
Austin Telco is partnered with Deluxe Corporation to provide you with quality checks at an affordable prices. The custom check price is $9.95 for a box of 100 checks. 
Ordering Checks
Your check information should be available within the Deluxe system for reordering. For security reasons, first time orders may not be done over the phone or through Online Banking, please visit one of our lobby locations.
How to Reorder Checks
The easiest way to reorder checks is through Online Banking. You can do this by logging onto your account, selecting "Services" and then selecting "Reorder Checks". Once on the Deluxe website, you can order the Austin Telco Custom check by selecting "Personal Products", "Checks", then selecting "Exclusive" tab under "Checks Categories". 
You can also reorder without any changes by calling 512-302-5555, ext 7190. We will not accept changes to check reorders over the phone. If you need to make a change to your check reorder, you can stop by any branch lobby or you can send a secure message through Online Banking.
If you have any questions please contact our check reordering department at 512-302-5555 ext. 7190.