Austin Telco is partnered with Deluxe Corporation to provide you with quality checks at an affordable prices.
The custom check price is $9.95 for a box of 100 checks. The Austin Telco Custom check image will also be the standard check for VIM members.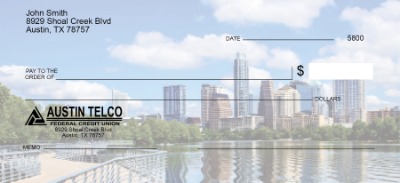 Ordering Checks
Your check information should be available within the Deluxe system for reordering. For security reasons, first time orders may not be done over the phone or through Online Banking, please visit one of our lobby locations.
How to Reorder Checks
The easiest way to reorder checks is through Online Banking. You can do this by logging onto your account, selecting "Services" and then selecting "Reorder Checks". Once on the Deluxe website, you can order the Austin Telco Custom check by selecting "Personal Products", "Checks", then selecting "Exclusive" tab under "Checks Categories". VIM members can reorder checks over the phone or send a secure message through Online Banking.
You can also reorder without any changes by calling 512-302-5555, ext 7190. We will not accept changes to check reorders over the phone. If you need to make a change to your check reorder, you can stop by any branch lobby or you can send a secure message through Online Banking.
If you have any questions please contact our check reordering department at 512-302-5555 ext. 7190.
Senior Accounts
Austin Telco Federal Credit Union has a Senior Account exclusively for members 60 years of age and older. As a senior account member, you receive special benefits such as:
No Charge for Austin Telco Custom Checks*
Free Teller Checks
*ATFCU will pay for two boxes of custom checks per year for members age 60 and over.