Saturdays Just Got Better!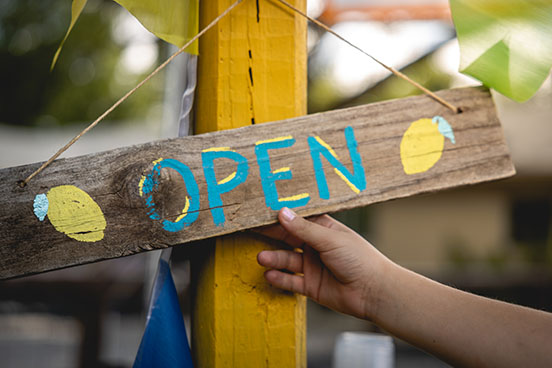 We currently have a limited number of lobbies open for walk in service on Saturdays from 9AM – 12PM. Drive-thru hours for all our branches will remain the same.
Here is a list of branches that will begin Saturday lobby services:
Bastrop
Buda
Cedar Park
La Frontera
Leander
Lockhart
Pecan Park
Stone Hill
Taos
---
New Branch Coming Soon!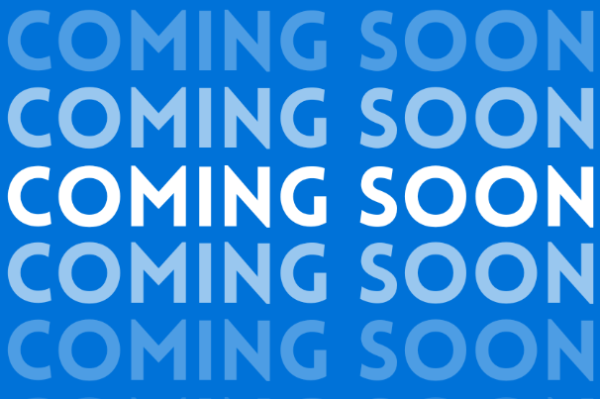 In 2020 we expanded our membership community to Burnet County. We are very excited to announce that we will be opening a new branch in Marble Falls - Fall 2023! We're looking forward to serving this area and helping to grow and develop the community. The construction of the Marble Falls branch is moving along and on schedule.
Check out the progress for yourself! The address for the new location is:
2607 North Highway 281
Marble Falls, TX 78654
---
Lockhart Chisolm Trail Roundup Parade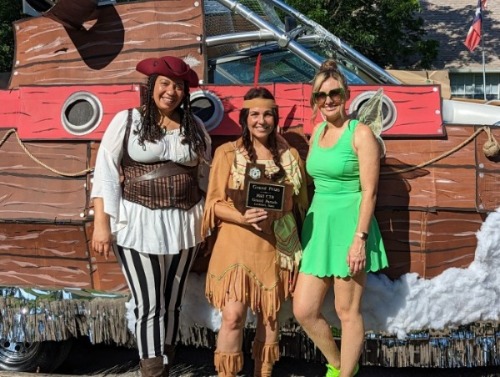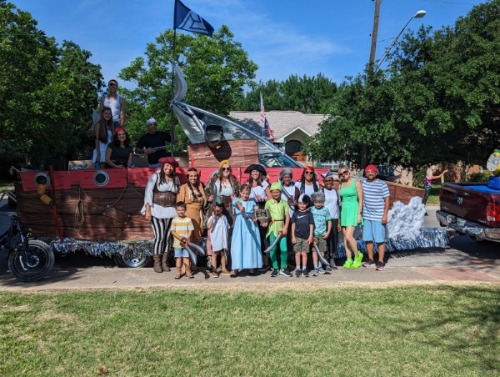 On Saturday, June 10th, 2023, our Lockhart branch participated in the 50th Annual Chisolm Trail Roundup Parade in Lockhart. The ATFCU team transformed a boat on a trailer into a magical and imaginative Peter Pan themed pirate ship floating in the clouds. The team and their families dressed up as Tinkerbell, Tiger Lily, Mr. Smee, Captain Hook and his pirates, Peter, Wendy, the lost boys, and there was a ticking hungry crocodile leading the way on the back of their truck. Peter, Wendy and the lost boys took over the pirate ship while the pirates, Tinkerbell & Tiger Lily followed behind handing out Telco swag to the crowds. They were awarded the Grand Prize for their float in the non-profit category! We are so proud of our Lockhart branch for their hard work in this wonderful community event!
---
Proud Sponsor of the 17th Annual Round Rock Juneteenth Festival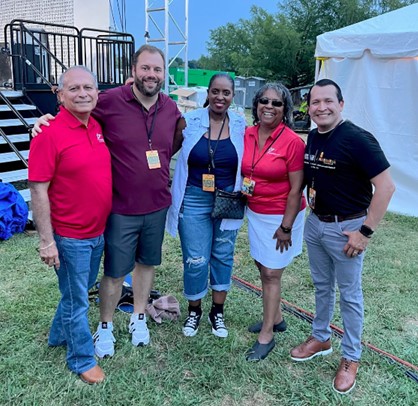 On Saturday, June 17th, 2023, The Voice Inc. (a non-profit organization) and the City of Round Rock Parks and Recreation Department teamed up for the 17th annual Round Rock Juneteenth Festival. This lively FREE event was held at the Lakeview Pavilion and festival area in Old Settlers Park. After 17 years, this is a much-anticipated annual occasion for Round Rock residents and surrounding cities. We are so proud to sponsor such community strengthening activities.
---
Member Merch Day at the Verde Store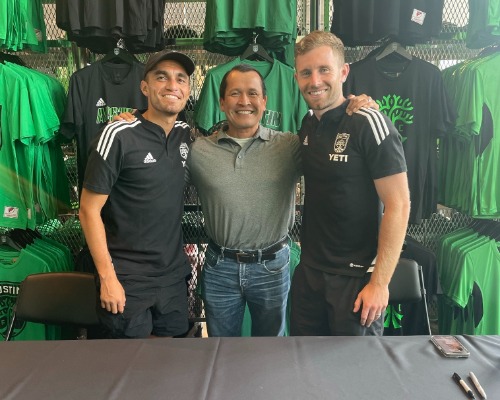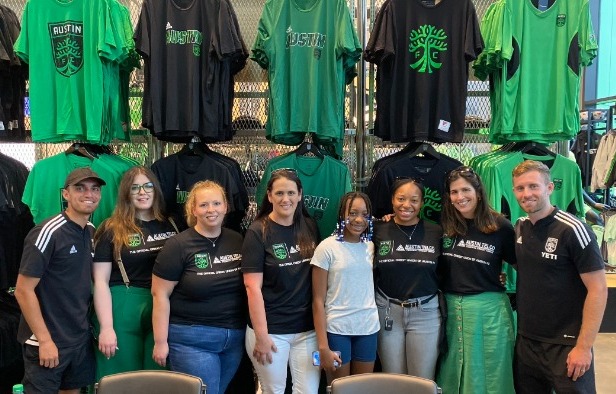 Through our partnership with Austin FC, on Thursday, June 15th, 2023, we were able to put together an exclusive two-hour event for our members in honor of our 82nd birthday. ATFCU members received an exclusive 10% discount on select Austin FC merchandise purchased during the event. It was a blazing hot day, but that's okay! We had free Kona Ice snow-cones to help all attendees keep cool. Austin FC players, Hector Jimenez (#16 Defender) and Jon Gallagher (#17 Defender), join us on this fun occasion for photo ops and to sign autographs. We also had a raffle where we chose two lucky winners of ATFCU x Austin FC merch. At the end of the day, we were surprised by one of our members who kindly played a happy birthday song for us on her electric violin.
---
True Youth Accounts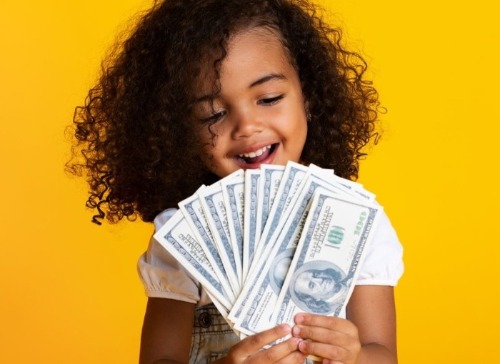 True Youth Share Certificates
This Spring we launched an exciting and unique product for young members of the credit union. The True Youth Share Certificate is a special type of savings account for young ones to teach them about savings and to jump start their financial journey. The minimum deposit to start the share certificate is just $25 and additional deposits can be made in increments of $25 until the maximum certificate amount of $5,000 has been reached. Each month, the dividends earned from the share certificate are deposited to the primary savings of the young members account. These monthly dividends can be deposited back into the share certificate in increments of $25 if they'd like as long as the share certificate balance does not exceed $5,000 - or the dividends can be used as a monthly allowance. As your certificate balance grows, your monthly dividends grow, encouraging saving over spending. Keep your eye out for new and special products like this from us in the future!


Coming Soon...

True Youth Checking Account with a Youth Debit Card
Austin Telco Federal Credit Union is excited to announce the upcoming launch of our Telco True Youth Checking Account and Debit Card! This solution is specifically designed to provide your kids with a secure and responsible debit card experience. Our Youth debit card is a version of our regular debit cards but with added protection and monitoring. It has a daily spending limit, allows a limited number of daily transactions, and does not allow international purchases - so the card will decline if the limits are reached or if an international purchase is attempted. To further enhance your peace of mind, we empower parents with the ability to set up account alerts through our Online or Mobile Banking platforms. This keeps you connected to your child's financial activities, reassuring you that their hard-earned money is always safeguarded.


---
The Ultimate Guide to Navigating the Car Buying Market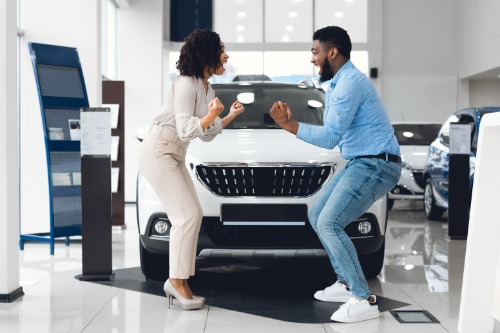 How Austin Telco FCU Can Help
As a potential car buyer, understanding these trends is key to making a financially sound decision. At Austin Telco FCU, we are dedicated to guiding you through the complexities of shopping for auto loans. Our selection of auto loan products is tailored to meet your specific needs. We understand the significance of purchasing a vehicle, whether new or used, and we're here to help you every step of the way. Our rates continue to be competitive in an economy that is quite unpredictable at the moment. You will enjoy a peace of mind working with local loan experts with many years of service.

Securing a Car Loan
Getting a used car loan can seem overwhelming, but we make the process quick and easy. Following these steps can help you navigate the process seamlessly!
Check Your Credit Report and Score
Your credit report and score play a significant role in determining the interest rate you receive. If your credit score needs improvement, consider taking steps to boost it before applying for a loan. You can check your credit report for free at com.
Determine Your Budget
Knowing how much you can afford to spend on a used car — including the loan repayments, insurance, maintenance, and other costs — is crucial. This will help you avoid financial strain down the line.
Research and Compare Auto Loan Offers
Different lenders offer different terms and interest rates. It's important to shop around to ensure you get the best deal. The best place to start is with a local financial institution.
Get Preapproved
Preapproval gives you an idea of what you can afford and puts you in a stronger position when negotiating a car price. After you've done your research, apply for a loan.
Negotiate the Price
Research the car's value to get an idea of what the vehicle is worth and use your preapproval to your advantage to help negotiate the price. Try to find comparable vehicles at different dealerships to compare prices and features. You may also contact a ATFCU loan expert to help you pull the value on a vehicle you are interested in purchasing.
Finalize Your Loan
Once you've settled on a price and worked up a purchase order with the dealership, you can finalize your loan. You will then work with a loan representative to iron out the details of your loan and set up your repayment schedule. Once your loan is finalized you will be hitting the road in your brand-new car!
Shopping for used car can be overwhelming, but with the right information and financial guidance, you can make it through smoothly. You don't have to go through it alone. Austin Telco FCU is here to provide you with the support you need, every step of the way.
---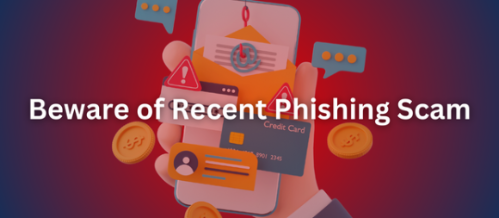 ATFCU is aware of a recent text alert phishing scam targeting members and non-members. The fraudsters are sending out text messages posing as our text alert system regarding charges made using an ATFCU card and prompts you to access a link to fix the charges. The website attached to the text message links to a fake website designed to look like our website in an attempt to gather sensitive information. Please use caution and do not visit the website if prompted.
Good Practice:
Always ensure you are visiting our official website by checking the URL: https://www.atfcu.org. There will not be any other verbiage in the URL when visiting our homepage.
Verify you are visiting our official website by looking for the Banno Monitor icon in the footer of our page and ensure it has a verification date.
We are urging everyone to stay vigilant against these kinds of scams.
If you receive a suspicious text - Do not click the link or respond.
If you suspect fraudulent activity related to your ATFCU account, please contact us immediately by phone at 512-302-5555, through secured messaging via Online Banking or the Mobile App or visit your nearest
ATFCU branch
during normal business hours.
---
New Visa Debit Card Coming Soon

We are excited to announce that we will be offering contactless Tap-To-Pay Visa Debit and Credit Cards soon! These cards have built-in security features that make each transaction more secure than ever, and the tap feature allows you to complete a transaction in seconds. Be on the lookout for availability at your local branch later this year.
---
Statistically Speaking
As of May 31, 2023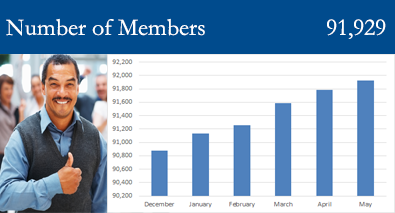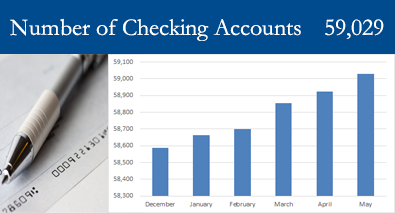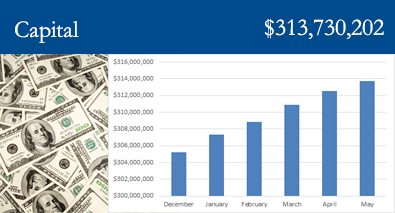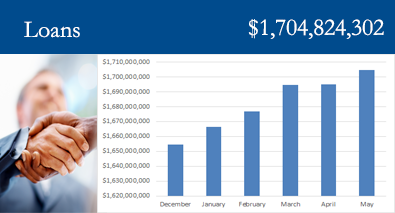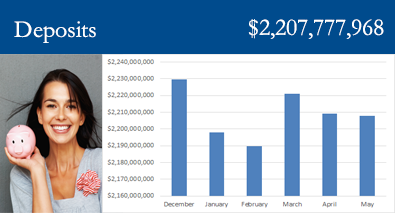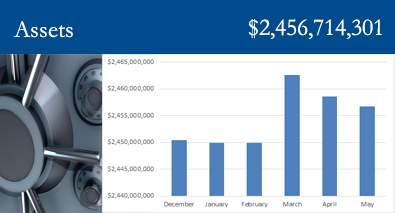 ---