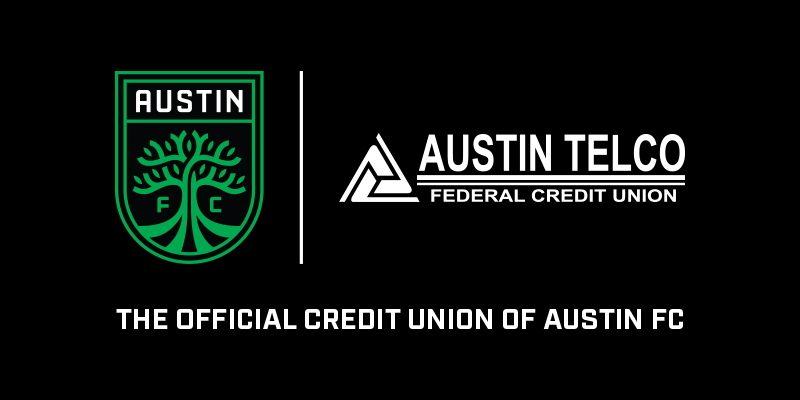 To mark the start of a brand-new year of serving the Austin community, Austin Telco has joined Austin FC as a new official club partner. As a member-owned not-for-profit financial cooperative, we are always looking for new ways to serve and support our Austin communities. This partnership with Austin's Major League Soccer club will help us continue to do that and so much more. You can expect new projects and programs on the way from Austin Telco as we join forces with Austin FC - a team that has built a strong presence in Austin with its support of diverse communities and important local causes - to celebrate, educate, and build true financial futures for the entire community.
Austin Telco x Austin FC: A Partnership Built With Austin In Mind
Austin FC was founded in 2018 as an Austin-based American professional soccer club competing in MLS. In the years since, they've grown to embody what Austin represents - a powerful community of people who understand that when we help others, everyone thrives. At Austin Telco, we believe in "people helping people" and the presence Austin FC has in the Austin community shows their values are similar. The Austin Telco x Austin FC partnership is a partnership built for the Austin community. Together we will uplift, empower, and actively engage with our existing and future members as we help them build true financial futures.

Highlighting Local Austin Artists at Q2 Stadium
The Austin Telco x Austin FC partnership officially began in February 2023. Shortly after was the grand opening of the Austin Telco Terrace located on the 300-level concourse on the west side of Q2 stadium and holds nearly 1700 premium seats. As a part of Austin FC's ATXFC Artist Initiative, the club has partnered with over a dozen Austin-based artists to create murals and posters in and around the stadium. Visitors of Q2 stadium will not only see the new name of the terrace, but they can also catch a glimpse of two new murals located on the North and South ends of the terrace. Each mural was conceptualized and created by local Austin artists and have a special meaning that connect ours and Austin FC's shared values.
When Austin FC fans step foot on the Austin Telco Terrace on the South end of the concourse, they are welcomed by the first vibrant mural, created by Avery Houser Orendorf. The second mural, created by Luis Angulo (Uloang), is located on the North end of the concourse, and illustrates the mission and values that shape Austin Telco while showing the love the Austin FC fans have for the game and the team.
"The design depicts a group of people, different ages, genders, and races embracing each other as they watch their favorite team; Austin FC," Angulo said. "The embrace symbolizes community, supporting each other and coming together for a common purpose." - Uloang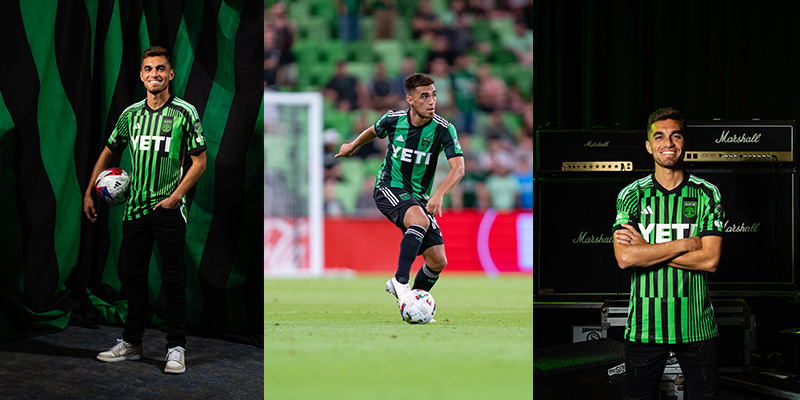 Hector Jimenez: Austin Telco's Player Partner
The Austin Telco x Austin FC partnership allows us to collaborate with an Austin FC player to help inspire the Austin community to build strong financial futures. We're excited to announce our Austin FC player partner is Hector Jimenez! The California native previously played for LA Galaxy and Columbus Crew for a combined 10 years. Jimenez has been a part of Austin FC since their inaugural season in 2021 and has recently signed to remain in Austin through the 2023 season. As a welcomed member of the community, Jimenez will help as we continue to play an active role in the community.


New Development Opportunities for the Austin Community
As the Official Credit Union of Austin FC, it was important that this partnership continues our mission of helping those within the Austin community build a future for themselves that is rewarding. That is why as part of the Austin Telco x Austin FC partnership, we are joining forces to host two Hispanic Austin Leadership events every year. These events will be held at Q2 stadium and will offer a variety of educational topics including finance, healthcare, environmental sustainability, arts and culture, education, and more! In addition to these leadership events, we are partnering with Austin FC on additional community giveback initiatives that will run during the season.
Visit our blog, Who is Austin Telco Federal Credit Union, to get to know more about how Austin Telco has established itself as an active community partner. Don't forget to stop by the Austin Telco Terrace on Austin FC's next matchday at Q2 Stadium.