Our mobile app allows easy access to your account wherever your iPhone or Android device goes. Below is the list of features to help you get the most out of your Mobile Banking experience.
How to Get Started
Get the App from the Apple or Android App Store.
Enroll through the App by clicking the Enroll link on the Mobile App login page.
Create a Username and Password
**Cellular data access and text messaging is necessary to use the Mobile Banking service and/or Text Banking. Check with your wireless carrier for any possible fees that may apply. ATFCU Mobile Banking and Text Banking services are only available to Online Banking users.
---
Mobile Deposit
Mobile Deposit is the remote feature on our ATFCU Mobile App that allows you to deposit your checks in a snap. Using your smartphone or tablet, snap a photo of your endorsed check and send it through your mobile app to your ATFCU account. Confirmation status of your deposit will be sent by email. Mobile Deposit is secure, easy to use and free for eligible ATFCU members.
Endorsing your Mobile Deposit Check
To deposit your Mobile Deposit check, please make sure all proper endorsements are clearly visible for the camera. You will need your signature, account number, and "For mobile deposit only" on the back of the check. Failure to use the required endorsement verbiage could result in your deposit being rejected. Below is an example.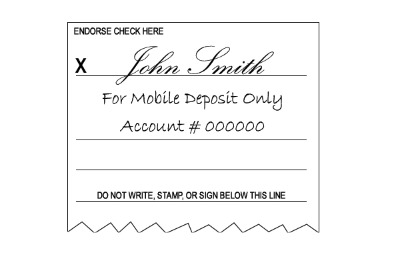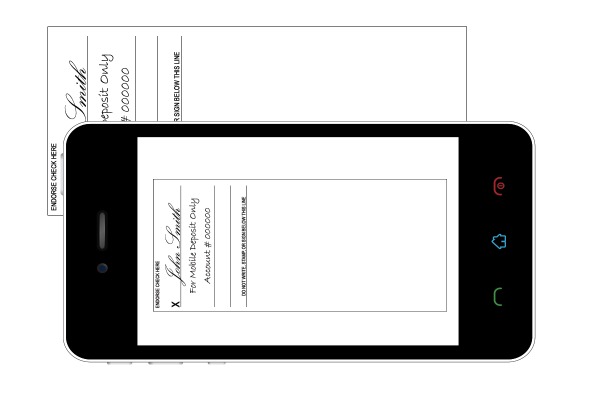 Eligibility Requirements for Mobile Deposit
Must be over 18 years of age
Must have an ATFCU savings account in good standing
The member's account must be open for a minimum of 90 days
No loan delinquency
Mobile Platforms supported by Mobile Deposit
Android OS 5.0 and above
iOS 9 and above (iPod Touch with camera, iPhone, iPad 2 and up, iPad Mini)
Must have rear facing camera
Biometric Login
Advanced Mobile App Technology
Now you can use Touch ID/Face ID (IOS) and Fingerprint Login (Android) to access your Austin Telco account.
Enabling Biometric Logins
When you open the Austin Telco app for the first time, you will login as usual with your username and password. If you have Touch ID/Face ID enabled on your iPhone or Fingerprint Login enabled on your Android, a prompt will appear asking if you'd like to enable it to login to the app. Simply tap "Enable". There is no need to reset your fingerprint or Face ID, the app will read your biometric logins you have already set on your phone.
Disabling Biometric Login
To disable Biometric Logins, click on the menu button within the app, choose settings, select Touch ID/Face ID or Fingerprint Login, and choose Disable. Now when you want to login to your account you will need to put in your username and password again.